Let's welcome Seelie Kay to West of Mars!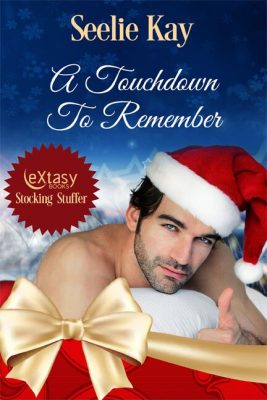 Seelie and I chat via Twitter from time to time — see why it's useful to have Twitter? Come chat with us! — and I was thrilled when I saw she'd filled out the handy-dandy form to tell us what song makes her think of her new book, A Touchdown to Remember. Ready? It's a good one!
It's Feel Like Making Love, the Bad Company classic! If you click the link, you'll LOVE the video — looks like someone recorded VH1 and alive appearance by the band. Since there was no official video, I went with this so you can at least see Paul Rodgers and band at their fashionable best. (We should not make fun, but come ON.)
Intrigued about the book? I sure am! Here's the description:
A Touchdown To Remember

It takes more than a hard knock on the head to keep running back Tim Wheezer Douglas down. When life pelts him with the proverbial lemon—a career-threatening concussion—he simply runs the other way, right into the arms of litigator Laura Adler.

When a second concussion sidelines Milwaukee Greyhound running back Tim Douglas, the rest of his life continues full-speed ahead. A some-time law student, Tim is faced with a classic Catch 22: Whether to continue to play football and risk a third and possibly life-altering concussion or quit the game altogether to pursue a career as a sports agent. He loves the game, but his priorities change when he meets Laura Adler, a sassy, sexy young attorney and rabid Greys fan. Their sizzling romp of a romance turns serious and Laura demands that he make a decision about football before she accepts his marriage proposal. Will Tim choose football or the law, and what role will Laura play in his future?
Pick up a copy! This link will take you to the Goodreads page, as the Amazon link wasn't working. And besides, I like Goodreads better than Amazon.
Hey! Here's the link to the publisher. Buy direct!
And connect with Seelie, too. Get news of new releases and follow her career.
website
blog
Twitter
Facebook
It's November, and there's still more to covet. Didn't I do a good enough job coveting all Rocktober long?
Guess not. But in my defense, I spent the month trying to catch up and even get ahead a bit for my editing clients (which means NOW is a really good time to book me if you'd like an edit! I have dates at the end of November and beyond, but if you blink, you'll miss them).
So here's a roundup of celeb bios and memoirs and other stuff that's all music-related.
Bruce, by Peter A. Carlin, is billed as being an intimate look at The Boss. Yeah, Springsteen, who was in my fair town recently. After being underwhelmed the last time I saw Bruce, I wasn't sad I missed him this time. And I hate that I had to say that, but there ya go. Sometimes, you gotta.
Ke$ha, who I once saw on a New Year's Eve special and was horrified by, is putting out an illustrated memoir called My Crazy Beautiful Life. I might have to read it, just to see what the fuss is about. Not only about the book, but its subject matter, as well. Maybe I've been wrong about her.
Slash has a new one out.
"Slash: An Intimate Portrait" (Insight Editions), a new 144-page hardcover book by Richard Bienstock, with photography by Robert Knight, was launched … October 4 at Mouche Gallery in Beverly Hills, California.
Joe Perry (yeah, THAT Joe Perry, you Aerosmith fans) apparently wrote the intro. Cool! But… didn't Slash write a book of his own a few years back? Like…2008? And isn't Joe writing one now?
The answer to both questions, friends, is YES.
And then there's Phil Anselmo, the man who was once so very kind to me outside his tour bus and who filled me in on why my promised tickets and passes had just vanished. He's working on his autobiography. He's even got a deal for it, so now it's a matter of him writing it and seeing if it can match up to his bluster. I bet it can. Phil won't work well with an editor. Even me.
I gotta admit that I'm not a Danko Jones fan any more than I'm a Ke$ha fan. So this new book? Too Much Trouble – A Very Oral History of DANKO JONES. I'll pass, thanks, unless a copy finds its way onto my nightstand…
This one hit my radar mid-month:
"Black Sabbath And Philosophy: Mastering Reality", a philosophical look at heavy metal's dark masters of reality, BLACK SABBATH, has just been published worldwide via The Blackwell Philosophy And Pop Culture Series.
Expanding beyond the world of books only (and the e-book is only 27 pages, at that), we have
A new one-dollar app and eBook tell the story of the making of BAD COMPANY's 1979 album "Desolation Angels".
The ebook is free! It's apparently a chapter taken from another of the prolific Popoff's books.
And, finally, more Van Halen, as well.
A new book, VAN HALEN: Exuberant California, Zen Rock 'N' Roll, by John Scanlan, is now available via Reaktion Books.

A book description states: "I hate the word maturing", singer DAVID LEE ROTH once said. "I don't like the word evolving – or any of that bullshit. The point is to keep it as simplistic, as unassuming, and as stupid as possible." Examining Roth's sentiment, Van Halen: Exuberant California, Zen Rock 'N' Roll follows the band's pursuit of the art of artlessness, and describes how they characterize what historian Kevin Starr terms 'Zen California' – a state of mind and way of being that above all celebrates 'the now'. In rock'n' roll terms it stands for the unregulated expenditure of energy; for a youthful exuberance that seems destined to extinguish itself.
Yeah, that's probably a year's worth of reading. I haven't seen any figures, but given the plethora of celeb bios and memoirs flooding the market right now, you gotta wonder if they're making any money for their publishers. I remember six, seven years ago when they weren't, and the publishers were all admitting it, too. They had to have the bragging rights of landing the celeb, and who cared if they lost money. It was all about those precious bragging rights.
And people ask what's wrong with publishing? Why a climate was established in which so many self-published authors are now taking great advantage?