March 25, 2020
Woot! I haven't met Karen Hulene Bartell yet but her middle name is one letter off mine, and that does it. Friends for life.
Yes, I really am this simple. It's part of my charm.
We're here to talk about Karen's new book, though, and from the look of this cover? Western.
I love Westerns. Yes indeedy.
Let's get to it, and hopefully I can stop drooling long enough to get this post together. Karen, what song makes you think of your book?
Westward Ho the Wagons (1956) The title tune and movie are all about moving to the Frontier, facing the unknown, conquering your fears, and being rewarded for your efforts. It was another time – another place – yet it was America in the 1880s.
I love this choice! What fun!
Here's the book description. Ready? I sure am.
Cadence McShane, free-spirited nonconformist, yearns to escape the rigid code, clothes, and sidesaddles of 1880s military society in Fort Davis, Texas. She finds the daring new lieutenant exhilarating, but as the daughter of the commanding officer, she is expected to keep with family tradition and marry West Point graduate James West.

Orphaned, Comanche-raised, and always the outsider looking in, Ben Williams yearns to belong. Cadence embodies everything he craves, but as a battlefield-commissioned officer with the Buffalo Soldiers instead of a West Point graduate, he is neither accepted into military society nor considered marriageable.

Can two people of different worlds, drawn together by conflicting needs, flout society and forge a life together on the frontier?
SO much here to love… Get your copy!
Amazon eBook
Amazon Paperback
Barnes & Noble NOOK Book
Barnes & Noble Paperback
As always, if you have an independent bookstore you love to support, see if they can order this for you. And, of course, remember to leave a review!
Connect with Karen Hulene Bartell! It's always fun, and now comes with automatic social distancing.
Facebook
Twitter
Instagram
Goodreads
Website
Email
Amazon Author Page
Instagram
Remember: if you're an author, I'd love to have you stop in and talk about your own book!
March 24, 2020
Let's welcome Wendy Kendall to West of Mars! She's got not only her debut to feature, but also the first in a series! Double whammy of goodness and excellent places to start.
Seriously, you guys, I've had such a great response to this first call for spotlight features, and I'm glad to keep this going as long as you guys are submitting! Spread the word!
I like this cover. It makes me smile each time I see it, so let's hear about the book. Wendy Kendall, what song makes you think of your book?
"What Happens in a Small Town" makes me think of my mystery Kat Out of the Bag. International purse designer Katherine Watson moves from Beverly Hills, CA condo to Bayside, WA farmhouse. Murder at her Purse Museum gala opening reveals a local has a deadly grudge. From designer bags to body bags, Kat Watson becomes amateur sleuth amid romantic sparks and local entanglements. She finds that everyone in her small town knows everyone's business. Now she's in a race to find the killer before she becomes the next knock off.
Ooh, this song is PERFECT! I like it!
Ready for the book description? I sure am!
When celebrated international purse designer, Katherine Watson, hosts a gala for her Purse-onality Museum, she never expected the next day's headline to read: 'Murder at the Gala Premiere.' But after a dead body is found during the event, that's exactly what happened.

Working to solve the murder, Katherine matches wits with local cop Jason Holmes and his K-9 partner, Hobbs. Although Holmes and Watson disagree often, they discover an undeniable attraction building between them. But they'll have to put their feelings on hold and focus on solving the murder, before Katherine becomes the killer's next knock off.
This should also come with a doggo alert! Holmes and Hobbs… I like it. It's got a ring.
Pick up your copy! NOTE THAT THIS IS A PRESALE. The book won't arrive on your device or your doorstep until April 13.
Amazon
Barnes and Noble
I'm sure your favorite local independent bookstore would love to order and ship you a print copy, too. Indies could use a lot of help during this time, so don't be shy (especially if your only other option is that big place that's decided books aren't important enough to ship promptly). Get to know a new bookseller — and if you don't have a local indie, adopt one from farther out! They'd be glad to add you to the family.
Connect with Wendy Kendall, too, while you're having fun.
My Website
Katherine Watson blog "APassionForPurses"
Follow me on FB
Follow me on Twitter
Follow me on Instagram
And once you get your copy, be sure to leave a review! Reviews help readers find good books, so help a fellow reader out, why don'tcha? And never ever feel bad about leaving a constructive (that's the key word: constructive) one or two-star review if a book doesn't do it for you. Need help? Drop me a line.
March 23, 2020
Been seeing this cover a lot? I sure have been! So I'm beyond thrilled to host Terry Graham today and find out more about her new book, A Matter of Manners. What's up with this book that's seemingly everywhere?
Terry, what song makes you think of your book?
Use Somebody by Kings of Leon because I can imagine Jeremy singing the lyrics
Ooh, I love this song! As soon as it started to play, I realized it's not on my Spotify playlists, and, well… THAT's been fixed. Thanks, Terry!
So… what's the book about? Why would Jeremy be singing these lyrics?
Jeremy Wyles believes himself sterile. He's also a sadist and fears no lady would agree to marry him. When a woman shows up on his doorstep, pregnant and claiming to be his wife, he'll do whatever is necessary to ensure his dukedom has an heir. A loveless marriage in name only seems the perfect solution, but his disobedient duchess stirs his desire for discipline…and something more.

Irish rebel Kathleen "Katy" Brennan only seeks recompense from the husband whose cousin married her by proxy and left her with child. The bargain he offers is tempting. He'll claim her baby as his own, and she can become the grand lady she's always imagined. There's just one condition she's not sure she can live with. The delicious-looking duke refuses to touch her…ever.

Can Jeremy put aside the wicked urges that rule his life, or will Katy's rebellious spirit destroy his tenuous control?
WOW. That's a hell of a premise, no?
I'm not sure this one is for me, given the elements of sadism, but if you're carrying less baggage than I am, be sure to pick this up! I love every other element of the plot. Sigh.
THIS is why reviews are helpful, folks. You can leave a review that talks about the level of sadism and let those of us with issues decide if we can handle it. So remember to take a few minutes and write up your thoughts on a book. Even if it's "I liked this because…" — that counts! And it's important! Not every review has to inform the potential reader of what they are going to encounter. It's just nice when they do.
Also, make note: this is the first in a new series! Get in on the ground floor; your buying a copy now helps Terry and her publisher decide if the series is worth continuing.
Grab your copy here:
Amazon
Barnes and Noble
Kobo
Googleplay
And, of course, your local independent store would LOVE your business, too!
Connect with Terry Graham!
My website is www.terrygrahamromance.com and I can be found on Facebook, Twitter, Instagram and others as TGrahamWriter
As always, if you need help writing a review, drop me a line! It's a nominal charge for my time, but I'll make it worth your five bucks. Promise!
And if you're an author or friends with an author, here's the link to the Featured New Book Spotlight submissions page — the more submissions I get, the more books you get to learn about!
March 22, 2020
Let's welcome CB Clark today! She's here with her sixth book, Healing Hearts and I like the title. We could use a bit of healing right now, huh?
CB, what song makes you think of your book?
God's Country by Blake Shelton
That was all she had to say, but I suspect the song says it all. I'm listening to it as I write this post, but I've got a mechanical keyboard and it's LOUD. The keyboard. The song is fierce and atmospheric, and I get it.
So what's the book about?
Reeling from loss and heartbreak, Stella King is desperate to escape painful memories. The position of nanny on an isolated ranch in British Columbia's rugged Chilcotin Plateau seems the answer to her prayers.

Cattle rancher, Dawson Wheeler, has worked hard to overcome grief and build a predictable world for his young daughter. The last thing he needs is the all-too-attractive Stella disrupting the smooth running of his ranch, especially now that disturbing incidents are happening on his property.

Defending his land against those who want to gut it will be a challenge, but the biggest threat of all may be to his heart.
Yeah, the song fits.
Grab your copy:
Barnes and Noble
Amazon
iTunes
Kobo
Google Books
Or, if you're there, Walmart.com — but I couldn't search for it, so if you find a link, let me know and I'll update!
Remember, once you've read it, it's always kind if you leave a review! Need help? Contact me. It's a minimal cost for my time, but I'll help you strengthen a review and give you tactics to help write good reviews, even good negative ones!
Connect with CB Clark:
Instagram
Blog
Twitter
Facebook
Goodreads
Amazon Author Page
And now, your usual disclaimers: Authors, here's the link so you can submit your own book to be featured; remember, it only has to be new to my readers to qualify!
And again, remember to leave a review!
March 21, 2020
Hello, B Davis Kroon! Nice to have you here at West of Mars. I love your attitude, because when I saw your answer to the famous one question, I burst out laughing. Scared a cat, too.
Rather than keep teasing you guys, let's get right to that question. What song makes you think of your new book, Trap Play?
I'd like to say my college football fight song…or J.S. Bach's Art of Fugue…but it's THE THEME SONG FROM JAWS
Come ON. That's the greatest. Want to know why? Here's the cover copy:
After one concussion too many, Ben Leit is done as the NFL's golden boy quarterback. Then his father, who was about to expose a bombshell sports scandal, is murdered. While Ben sets himself up as the killer's next target, Mimi Fitzroy, CIO for Rex Sports International, panics as she discovers somebody was using Rex to stalk the recently murdered Frank Leit. Worse, she finds thousands of stolen emails that prove Rex is breaking a ton of federal laws. Ben and Mimi find a connection they didn't want and weren't looking for. As for whether they can trap the killer before the killer takes them out? The three of them are headed for an explosive showdown in Seattle…and not everyone will walk away.
Yeah, I get that Jaws theme song now… that slow build-up of tension…
Get your copy! This one seems to be Amazon exclusive, but if you find links that aren't, send them and I'll update.
Connect with B Davis Kroon, too. Authors love to chat; you guys provide our virtual water coolers.
Website
Facebook
Twitter
email
And remember: if you're an author, feel free to fill out the handy-dandy form and I'll post your answers in turn. If you're not an author but have a friend who is, send 'em over!
Don't forget to leave a review once you've finished it! Reviews help authors in a number of different ways and even a few words are helpful. If you can't be kind, be constructive! And if you need help, let me know.
March 20, 2020
Yes, friends, we're back again today! I will keep posting Spotlights so long as you guys give me books to spotlight! Spread the word, tell your friends, and check in every day to find a new great read.
Today, we welcome Linda Griffin to West of Mars! (cue the fanfare. I like fanfares.)
Her latest book is titled Guilty Knowledge, and it's been out barely two weeks now, so that means you can possibly be among the first to discover this gem!
Ready to learn about it? I sure am; that cover caught my eye with the purples in it. (I like purple.)
Linda, what song makes you think of your book?
"She is Still a Mystery" by Lovin' Spoonful. Sariah is an enigma to Jesse, even as he's more and more attracted to her. She has secrets and is in no hurry to reveal them. She knows a crucial detail about a brutal murder, one that was never released to the public, but how does she know? Is she really psychic? Is there a leak in the department? Or does she have guilty knowledge of the crime? And why won't she let him into her apartment?
(I like the Lovin' Spoonful. C'mon. You do, too.)
Also, I LIKE these questions! These are the sorts of questions that make me pick up a book? You?
Well, before we do, let's learn more about it!
She's a witness. She may be lying. And he's falling in love with her.

Detectives Jesse Aaron and Camille Farris have no leads in the murder of Rosa Logan when pretty blonde Sariah Brennan claims to have seen the killer—in a vision. Unfortunately the man she identifies is dead—or is he?

Sariah is an unsophisticated small town girl, but her background and her motives are mysterious. Jesse is increasingly convinced that she has guilty knowledge of the crime, even as he finds himself more and more attracted to her. Can he and Camille unravel the web of secrets before the killer strikes again?
This feels like a series! If it is, it's the first, so be sure to check it out and, if you like it, leave a review. That's a good way for authors to know if they should continue investing time and energy into this set of characters.
Get your copy here:
Amazon
B&N
Indiebound
Kobo
Scribd
And, of course, you can call your local indie bookstore and ask them to order and ship it to you. I've always been a fan of indie stores, now more than ever.
Connect with Linda Griffin as you practice real-life social distancing!
Website
Facebook
Twitter
GoodReads
And remember: if you're an author and would like to see your book featured, here's the handy dandy link to the form.
March 19, 2020
WOOT! We are BACK, featuring books that are (hopefully) new to you guys. Check 'em out, pick 'em up, leave even a brief review when you're done. Yes, even negative reviews are helpful reviews, so long as your negativity is constructive.
Today, we've got our friend Alana Lorens here with her brand-new, released-yesterday book, Tender Misdemeanors. Let's get to it, shall we?
Alana, what song makes you think of your book?
ROCKY MOUNTAIN HIGH by John Denver. Both the hero and heroine in this book love their Montana locale, the old forests, the beauty of the mountain ranges, and they want to protect it–they just come at it from very different angles. One of the trips I did research on for this book, friends and I rode ski lifts in summer to the top of the Rockies outside Whitefish, MT– 70 degrees below, snow on top!!!
I am a sucker for anything Montana… although I have to admit that "Rocky Mountain High" makes me think of West Virginia… and this is why I ask this question! Songs have such a powerful hold over us.
Here's the book description:
Caryn Orlane has law enforcement in her blood; her father was a cop, and his father, too. She's a federal agent in northwest Montana, protecting the old forests and keeping the peace.

Levi Bradshaw also believes in protecting the forests, but has a very different MO. He's the leader of a group of eco-warriors, determined to save the trees of the Bitterroot by legal—and illegal—means.

When they meet in the woods at gunpoint, their encounter ignites a spark of interest, despite operating on opposite sides of the law. When their worlds turn on them, they only grow closer. If they don't work together, can either survive?
Mmm. I love the name Levi. I'll read this book for that alone!
You, too? Ready to get a copy? Here are your buy links:
Amazon
And be sure to connect with Alana Lorens! She's a gem of a human, and we can all use some of those right now.
Website
Facebook
Goodreads
Amazon Author Page
Email
Bookbub
Got a book of your own? I'd love to feature it! Here's the quickest route to the submission page.

October 24, 2019
As a line editor, over the years, I've developed a real love for two dialogue tags: asked and said. They are sneakily powerful, serving a variety of functions. And they aren't narcissistic words, either, like some dialogue tags can be. You know: dialogue tags other than said.
I hadn't really thought about dialogue tags other than said or asked much. I'd been too focused on the job said and asked do. But one day recently, I had a client – we'll call her Stevie – and she used a crazy amount of dialogue tags other than said. I'm talking… well, about 99.5% of the tags were other than said.
And I realized something. Something important.
She was using words like commanded, appealed, soothed, admonished, challenged, criticized, questioned, countered, chided, contested. And many, many more (I actually wrote almost all of them down!)
And okay, a lot of them start with the letter C. A lot of them start with S, as well: scoffed, smirked, scolded, shot back, stated, sympathized, and more.
That's not what I noticed. Nope.
What I noticed about dialogue tags other than said
I noticed that many of these words are aggressive words. They are words of verbal warfare, of one-upmanship, of hostility and anger.
And beyond that, I noticed two other things:
1. They were making me very very angry and I had to take frequent breaks and actually leave my office for a few minutes, until my blood stopped pounding in my ears and the black cloud over my head broke itself up.
2. No matter how calm the characters were supposed to be, those aggressive words made them seem as if they, too, were arguing and had a contentious relationship. And you know what? When you're trying to write two people coming together and maybe having feelings for each other, that doesn't work so well.
Are dialogue tags other than said bad?
In short, no. But use them sparingly. A lot of them tell what the dialogue shows. Questioned, for example. Stop and think. Can the reader tell that the character is questioning the other? Does the content of a character's speech show us that they are sharing a secret? Then there's no need to use confided.
But sometimes, you need that extra oomph. Sometimes, using he countered in a spot helps the reader understand the dynamic between the two characters. Maybe that helps the reader understand that a negotiation is happening. That's a valuable spot in which to use a dialogue tag other than said.
So my takeaway for you today is to take a good hard look at your dialogue tags. Look at the tags used in the book you're reading—because of course you're reading, right?
Take a step back. Change that tag to another word. See how it affects the reader, the characters, the tension in the scene, the dynamics between the characters who are speaking.
And never, ever, be afraid to use said. Or asked. They are good little words.
This is one of my favorite subjects!
Check out this older post, about a time when I encountered tags other than said in a published book.
Or this one, which came about because one of you had a question about that post.
And then you gotta wonder about the difference between asked and said, right?
Another reader question about asked and said, and here's a bit more in-depth answer to that question.
Don't believe me?
This is the spot where I'm supposed to link to a bunch of other posts that reinforce this idea. But most of them… I don't like. They are either too elementary (What is a dialogue tag?) or kinda insulting to those of us who believe that you can use both types of tags – said/asked and the fancy stuff – just with caution and an eye toward good craft. You, my reader, are savvy enough to toe this line. You really are.
So here's one good one about the subject. It's from Litreactor, which is a new-to-me site, so expect me to poke around there some more and see what they're all about.
One caveat:
Look out for sites like this. It's Reedsy, and yes, I've got a profile there and you can see it and hire me through it (but why when I'm right here and you're right here?). But this… isn't good advice for a young writer. The implication is that you only want to use dialogue tags other than said, and we know that's not how this works. SAID. ASKED. These are magic words. Use 'em.
August 26, 2019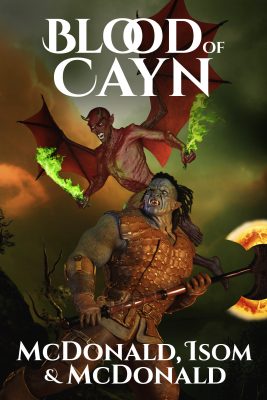 When I first posted the original Featured New Book Spotlight, Jason realized he hadn't explained the WHY behind the song he'd picked. (I may have to tweak the form, no?)
So he sent an explanation:
We chose the song Face Everything and Rise because it resonated with our book. Specifically, and Papa Roach did this with the title of their album, the definition of the acronym F.E.A.R is Face Everything and Rise. It can also be Forget Everything and Run (expletive optional). Grendel, Xandor, Chert, Jasper, Yana, and Sehraine did not do that. They faced their fears and rose above them.
Need to see the whole thing, update and all? Go here and you can.
July 29, 2019
Been awhile, huh? I've been SUPER busy with edits and haven't been able to remind authors to stop in. So if you are reading this, remind your author friends to stop in! It's one question!
Today, we have McDonald, Isom, and McDonald back again, with McDonald representing the writing trio. Jason McDonald, that is, who's an upstanding dude, so I encourage all you guys to check out this trilogy. And sadly, Blood of Cayn is the last book in the trilogy! If you've missed the first two, go chase them down. (Here's the Amazon link to the first, and yes, sorry, but it's exclusive to the Big A.)
So. Book Three. Blood of Cayn. (Man, I hope these guys have more in the pipeline. I've got to remember to ask.)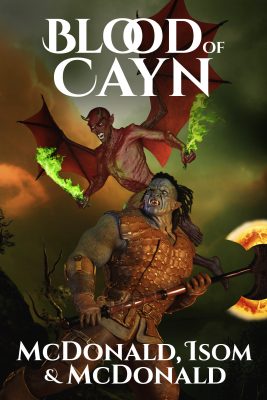 Jason, what song makes you guys think of your book?
Face Everything And Rise – Papa Roach

We chose the song Face Everything and Rise because it resonated with our book. Specifically, and Papa Roach did this with the title of their album, the definition of the acronym F.E.A.R is Face Everything and Rise. It can also be Forget Everything and Run (expletive optional). Grendel, Xandor, Chert, Jasper, Yana, and Sehraine did not do that. They faced their fears and rose above them.
Ready for the back cover? Here you go:
Chernigov – once a shining hub of prosperity joining two nations, now a dark, smoke-shrouded hive of dangerous humanoids ruled by the ruthless hand of Bregu Kraagor – harbors a deadly secret. Somewhere in its depths, the villainous knight, Marko Madasgorski, and the body snatching mage, Gregori, have hidden a cache of plague-ridden soap that could spell the doom of the human kingdoms of Parlatheas.

After battling their way across half the continent, Xandor, Chert, Jasper, and Grendel have followed their quarry into the orc city in a desperate attempt to save the city of Pazard'zhik and everything they hold dear. Meanwhile, across the White River, Yana and Sehraine have joined forces with the Iron Tower to rescue their friends.

With only the dubious guidance of the disgraced Baroness Alexandra "Sacha" Madasgorski, the adventurers must plunge into the depths to find the plague's cure and stop Marko and Gregori before it's too late. But the dark god, Sutekh, doesn't give up his pawns easily. While Sacha sets her own plans into motion, the sentient Veritas autem Sutekh whispers dark promises to Jasper, teasing him with hints of the answers they need and the promise of power – if he will swear his soul to Sutekh.

Will they find the cure? Can they escape the bowels of Chernigov to save their world? Find out in this thrilling conclusion to the Cayn Trilogy!
Seriously. If fantasy and D&D and all that is your thing, do NOT miss this series. It's fresh, it's innovative, and it's fun. And, of course, once you read it, remember to leave a review! Reviews help books be more easily discovered… or to warn off readers if there's a valid reason to do that.
Pick up your copy here: Like I said, it's Amazon only.
And connect with our creative authors!
July 1, 2019

I had picked up a book while it was on sale. No big deal; I do it all the time when the book sounds good. As a single parent who runs a microbusiness and has a mortgage and one college tuition staring her in the face, plus needs a second car and to fund a second college tuition, these sales — and I'll admit it, the freebies — are a gift.
Yes, I leave reviews to say thanks. I suggest the really good ones to my friends, too. Why do you ask?
But this isn't about the debate over free and sale books, and it's not about the need to leave reviews. It's about the responsibility of the author and/or publisher to respect the reader.
Now, this book had a number of big red flags. In the first four percent, we learned twice, in depth, about the main character's need for anonymous sex. We spent a couple pages of info dump about the other main characters. And there was no clear opening to the book; I could have sliced off the entire four percent and the book would have been better for it.
So… already, it's suffering from poor editing. Not a good sign.
And then, the grammar. And there's a difference between uneducated — lots of him and me went together to that place — and sloppy.
I get that lie/lay is a hard construction. I still struggle with it, and I've been editing for HOW many years now? (The answer: about as long as my son's ultimate coach has been alive.) But I've learned, because that's what an editor does. She learns and grows and gets better at her craft.
Just like writers are supposed to.
So we had rough grammar, which didn't completely complement the author's voice and stuck out and made me wince. We had grammatical errors.
Clearly, no professional editor worth their salt was involved with this book.
But when I got to the place where a zero was used in place of the letter O, I was done. Now you've crossed the line from ignorance, which can be fixed, to a refusal to respect the reader.
Respect your reader.
At this point, it's not even about editing. It's about respect. It really is. Because if you can't be bothered to at least run spell check to make sure something this massive hasn't crept in, what else can't you be bothered to do? Learn the craft of writing? Put your best effort on the page? Care about your project, your consumer, your future career?
It's about respect. Respect the reader. Bring your best. Every chapter, every scene, every paragraph, every sentence, every word. Even if you can't afford a professional editor, you owe it to yourself and your reader to run spell check and make absolutely certain that you're not going to leave in an error that shows you don't care about the product you are selling. There's a difference between him and me stood there and stared and thr23 people approached. What does that last even say? How many people are involved in this approach?
If you can't respect the reader, maybe you shouldn't be publishing.
June 12, 2019
The King Trevor cover because Lex did the ShapeShifter logo for my many years ago.
Have you gotten your rights back to a book that was previously published?
I've got a deal for you.
My friend Lex Valentine is offering a cover art package that can't be beat. Lex is… an amazing writer, great graphic artist, and an awesome woman all around. She's offering a great package on cover art for books whose rights have reverted to their authors. Why let your book sit on your computer? Put it out there! Visit her at Winterheart.com and be sure to tell her I sent you.
Of course, you can't have a spiffy cover art package and a lot of typos inside. So if you send me proof you're working with Lex on your cover art, I'll give you a steeper discount than I usually do on a copy edit for a rights reversion. AND since right now the $100 rush fee is in place, I'll waive, that, too, if time is of the essence.
That's right. As a matter of course, I offer discounts now if you want to re-publish your book and put it on the self-publication market. BUT if you work with Lex, I'll offer a steeper discount than I usually do. Even though it means I'm losing money, and with an expected announcement next month of college tuition hikes, that's not real comfortable.
But these are the things we do for our friends, and I've no regrets about that.
Use Winterheart for your graphics. Get a discount from me.
Can't lose… and hopefully, the royalties will roll in and you'll actually win — new readers, nice royalty checks.
Seriously. What have you got to lose?
May 22, 2019
Been doing a ton of samples lately. Prospective clients. Summer approaches.
Noticed a trend. Big one.
Sending a lot of samples back with message: "I can work on this now, but I think your money's more wisely spent if you take some time and fix these sentence fragments. If you're stuck and need help, let's talk about a pricing structure and coaching sessions that'll help you improve this area of your craft."
I don't know where this trend is coming from, what's fueling it. If authors are in such a rush that they aren't paying attention to the simple formation of a sentence (and really, there's rarely anything truly simple about a sentence). If their beta readers or critique groups or partners aren't calling them out on this, whether from expediency or because they think it's not their job (it is), or from simple ignorance of what constitutes good writing.
I can come up with a million reasons for why this is happening.
Ultimately, I don't care what those reasons are, to be honest.
I want to see good writing crossing my desk. The kind that the author has worked on, paid close attention to, done his/her/their absolute best by, and then they've taken the time to learn some more, rolled their sleeves back up, and went deep yet again.
It's not because I'm a snob. That I only want to work with the best. That's not it at all.
Far from it. Some of my favorite clients are the ones who bring me a rough manuscript and then, as we work together, their craft improves. They do the hard work, and their pages reflect that, and the story reflects that, and then their readership reflects it, too.
Do you see the key? Have you picked up on what I'm stressing here?
Doing the hard work. Learning the craft. Doing the hard work.
Doing.
The.
Hard.
Work.
That means writing in full sentences. Sentences are powerful things, but if you cut them off at the knees, if you truncate them, you're taking their power away. And in a novel, sentences are all you've got. They are the everything. The only thing more important are the words, themselves, that make up those sentences.
So yes. I'm trying to give these authors choices. I'm trying to save them some money — editing isn't cheap, and I am a not cheap editor within the field. If you want to work together in a coaching situation, I'm more than glad to. Not because it's lucrative for me, but because it's important that you learn these skills, especially the basic ones. And because as you master them, your money is better spent when my editor's eye can turn from the basics of writing to the more nuanced use of words and other elements of fiction: Plot. Setting. Pacing. Characterization. And the detail work, the timeline, the grammar, the echo words, your character's eye color, the unusual spelling of your main character's father's name…
Slow down. Take your time. Don't rush to publication; that never goes well.
Do the hard work. Work on your craft.
But if you need help, ask for THAT. Don't pay me for an edit in which I have to call out 75% of your manuscript because the sentence fragments don't work, even stylisticly. It's a poor use of your money and a poor use of my time.
Do the hard work.
If you need help understanding how/why sentence fragments are a problem, ask. I'll answer. I'm glad to work with you and teach you how to spot them, how to remove them, how to write better prose that readers will love.
Do the hard work.
Good luck.
April 30, 2019
As an editor, I work with words — duh, right? Except part of "work with words" means I need to know how to bury something, how to pump it up, how a word's placement in a sentence affects the reader. Unless I've done a line edit for you already, you'd probably be surprised at what a skill this can be.
That's why I want to bring this very important one to you. Because for years now, we've been set up by a certain narcissist to accept something that I pray we won't have to.
First was talk of walking out onto Fifth Avenue in New York and shooting someone and getting away with it.
There was no condemnation of the Saudi prince and his murder of a journalist.
There have been talks of sending our military into Venezuela. Rumors of military action against North Korea and others. Lots of talk of military action.
Just in March, a scant month ago, a Navy SEAL charged with murder was moved to a different spot in prison, a less restrictive place. Let's reward the murderer!
And haven't we seen some of that associated with certain mass killings? A kind of sideways absolution of someone who committed murder, at a rally, with an AR-15 or two or three? A lack of condemnation can be and probably is a sideways absolution when you're speaking a narcissist's native tongue.
There is talk of the military at the border being allowed to use more force against hopeful immigrants.
And then, recently, the most chilling one yet.
He started off by painting a lovely picture of a delivery room. Babies wrapped in blankets. And then, buried at the end of the sentence, after the feel-good moment, there it was. One word that both was preposterous in reality as we know it, but also a narcissistic teaser, a(nother) feeler to see how this new policy would go over, if there would be an outcry from the public.
EXECUTION.
This is a common narcissistic tactic: float an idea bunded into something else. See if there's a reaction. If not, float it again and again. Inch toward the goal. Wear down the listener until they are too tired, too numb to react anymore.
Note, too, that this came mere days after Saudi Arabia executed 37 people. When we SHOULD be sensitive to it. When there SHOULD be an outcry, and not just because one of the executed was set to attend an American university when he was arrested and then executed. Thirty-seven people faced an execution. Thirty-seven people died. And a few days later, buried in a sentence, there it is.
EXECUTION.
It keeps coming back, in various forms. Don't be numb to it. Listen to it. We are being shown what lies ahead.
So where is the outcry?
This is why that was tacked on to the end of that lovely picture. Oh, yes, it was meant to shock and horrify, and it did that. But that seems to be restricted to the idea of infanticide. Not to the wider idea of a change in our culture, a change in which the idea of execution becomes something that… well, if we're not comfortable with, at least we're not screaming bloody murder to keep it from happening.
Screaming now will hopefully save us from screaming in terror and the pain of loss later on.
April 22, 2019
Well, this is a LONG time coming for this post, and let's start off with a HUGE apology to Lynn. First her mail to me wound up in my spam folder. Then it got buried in an avalanche I had at the start of the month. And then it took four tries to dig it out of that mess.
But we're here, and Lynn's here, and it's all good, right? Let's talk about her new book, Animals, Acrobatics, Attitude, and Amore.
Lynn! Yay! We've connected! Tell us what song makes you think of your book.
There are mythical beings including Irish ones. Plus there are animals with attitude as well as plenty of gratitude.
Holy smoke. Have you guys heard this song? I swear I used to know a version of this when I was little. I SWEAR IT.
Wow.
How cool.
So what's the book about?
A clean, cozy short story collection that includes fantasy stories that will be great for the young ones in your life. There are also what some consider Chick Lit. A quick read with something for almost everyone.
I know… short stories… a lot of people don't like them. But can I tell you a secret? They're AWESOME, especially if you have young people around you. You may not have time for one more chapter, but it's pretty easy to squeeze in a short story between the kids' needs. I speak from experience here.
So grab a copy. There's only one review up at Amazon, and I KNOW you want to fix that, right?
Universal Book Links
Amazon Global
Multiple vendors via Books2Read
And connect with Lynn! Take advantage of this social media world we live in and learn more about her and her work.
April 16, 2019
So here's the scenario, ripped right out of my own life.
Student goes to the head chef at dining services. Asks if the dining staff will be making Kosher for Passover food next week.
He says no.
Doesn't say anything else.
The student is, not surprisingly, upset. How can the dining hall not honor one of the major religion's major holidays?
It's a valid question. And a lot of people, especially the parents, quickly become upset.
But a little bit of digging reveals the answer: the chefs won't be cooking Kosher for Passover food because the university is having it catered off-campus and brought in.
The chefs had been truthful. But they'd only had part of the truth.
So what's this got to do with fiction?
Think about it. Think about how characters routinely ever learn only part of the whole picture. This is what fuels Big Secret plots, for instance, where part of the obstacles facing the characters' relationship is what isn't said.
Think about how withholding part of the truth can influence the direction a mystery takes.
You with me?
Take a look at your WIP. Are your characters being TOO forthcoming? Are they holding too much back? How does what each character chooses to say — or NOT say — influence and affect the plot?
It seems simple, but… it's not. We authors often have impulses to tell what we've shown, and sometimes, we let that spill into the words that tumble out of our characters' mouths. On the flip side, we think our characters are being oh, so clever when we have them withhold certain stuff. But are we doing justice to our fiction when we do either?
March 21, 2019
It's been just over a year since my short story "Undaunted" appeared in this juried anthology. This call for submissions could have you bragging about your own inclusion in a juried anthology.
This one isn't for short stories, though, unless you can tell an entire story in up to 125 words. I know some of you are very good at that.
What author Jaleta Clegg is looking for, mostly, is an abundance of silliness and weirdness. She wants happy and silly and hopeful, not dark or scary or disturbing.
Well, she says, maybe a little disturbing.
The idea is that it'll fit on a page of funky fonts and cool formatting. And be silly and weird and happy and silly and hopeful and a little bit disturbing.
Got it?
Here's another selling point: she's paying a whopping $5 for each piece she selects. It's not much, but it's enough that you can say, "Hey, not only was it a juried anthology, it was a PAID juried anthology."
Bragging points, indeed.
BUT that's still not all. Nope. She's also letting you tack one more thing onto that line you get to brag: Proceeds will go to Heifer International, so this is a charity initiative.
Got all that? Juried. Paid. Charity.
125 words. Silly, weird, hopeful, happy, and slightly disturbing, probably in its absurdity.
Need that link again, so you can check it out yourself? Here it is. Nice and long, so it's easy to see and easier to click.
Good luck! You have until the end of May, thereabouts, because weird and silly and slightly disturbing… there are no real deadlines for THAT kind of fun.
As always, if you make the cut, come back and brag about yourself and use this space to help promote yourself and your anthology!
March 5, 2019
This is Read an eBook Week over at Smashwords. It's the tenth annual Read an eBook Week, in fact, and I believe I've had a book or more enrolled every year since the first.
I've given away a lot of books during Read an eBook Week. Hundreds, thousands… honestly, I don't really keep count.
You can get your hands on my books this Read an eBook Week, of course.
But I actually don't want to talk about my own books, or promote myself. Not this week. (My books are old, after all, and even in ten years, society has shifted quite a bit and I don't even know if they hold up anymore. I'm still proud of them, though.)
Rather, let's talk about you, and three actions you can take this Read an eBook Week.
1. Browse Smashwords. Set your erotic filters and browse away. Find new authors, new books, new genres and subject matter. This is a great time to expand your reading horizons, so go for it.
2. Read something. If it's stuff that's been sitting on your ereader for a long time, if it's the new stuff you're finding… it doesn't matter. Just read.
3. Write reviews. Leave them at GoodReads. Go back to the book's page at Smashwords. Got a blog? Leave them there. Got a friend with a blog? Another option. I am also always glad to post thoughtful, constructive reviews and essays about books you've read here. And, of course, if you need help with a review or an essay about a book you've read, holler. I charge a minimal fee, and you'll get more than the cost is worth.
Yes, that's it! Find a book. Read a book. Review a book.
It has been proven over and over and over and over and over and over again that word of mouth recommendations are the best way to sell books. Reviews often fall into this category, because it means people are talking about someone's book.
So talk about someone's book.
We know there are algorithms that will prop up a book when it gets a new, or many, or a set number of reviews. So YOUR review has a very good chance of resonating and helping an author. Yes, even if it's a negative review! (Remember, reading is subjective. I mean, I have met people who don't loathe Moby Dick.)
And it's not like you paid money for these books. Most of them over at Smashwords, as part of Read an eBook Week, are free.
That means leaving a review is an easy way to say thanks. To show appreciation for an author's hard work, even if it wasn't work that you loved. To help a very small business owner have a little bit better shot at success… and that, right there, is reason enough.
We're one reading/writing/publishing community. If we don't take care of each other, who will?
February 6, 2019
So I'm reading a book. It's a good book. It's a crazy book, actually, full of slapstick comedy and subtle humor and there's a LOT to like about this book. It turns out to have been the third in a four-book series, and you bet I'm going to go back and find the first two, and then probably the fourth.
It is not a book I edited. It's one of the approximately 35 I'm going to so-called leisure read. But when you're wired the way I am, leisure is an odd choice of words.
And that's the problem with this book. I'd recommend it in a heartbeat. I would. I have been, in the few days since I finished it.
But… I'm wired the way I am.
And in this book, Satan's a character. And Hell is that place for immortal souls and suffering and all that.
Hell is a place. An actual place.
Now, Disneyland. That's a place. Mars. That's a place. Paris. Pittsburgh. Carnegie Music Hall. Buckingham Palace. The Louvre. Miami University of Ohio. Costco.
See anything about all these words? Notice anything at all?
That's right. You use capital letters at the start of each of them. They are what we call proper nouns. They identify a specific place.
In this novel I was reading, Hell was a specific place.
But not once was Hell capitalized.
Drove me up the freaking wall. Three hundred pages of Hell being an important location in this novel, and never once was it accorded the dignity and propriety it deserves.
Hell is a place. In this use, it's a proper noun. Give it a capital letter.
January 14, 2019
What a way to start 2019 — with more new books to feature! You guys know I love to do this, so keep sending your submissions in.
Let's get right to today's friend. It's Jaimie Roberts, and what a delight to see her here! She's written a LOT of books, so hopefully she'll stop back and tell us about some of the others, too. Why not, right? "New" only means it has to be new to me and you. No one ever said it had to be a recent release!
So Jaimie, what song makes you think of your latest release, Amnesia?
Iris by the Goo Goo Dolls, simply because the heroine of the book has been hiding herself for years for fear of people judging her. The hero is someone she eventually gets close to – opens herself up to. She decides to trust him even when the world around her seems to be falling apart. He is where she calls home. Her light in the dark. She wants him to see the real her.
Ooh, I LOVE this song. Always have.
But… there's more to this, right? It's not merely a romance?
Check out the description. It's a romantic suspense!
I don't use the term "bully" lightly. However, I have no qualms about using it when it comes to Max Cooper.

Arrogant.
Aggravating.
Annoying.

Those are just a few of the names I have for him that start with the letter A. I haven't gotten through the rest of the alphabet … yet.

From the moment I met Max three years ago, he was nothing but an arsehole. The only reason we put up with each other is because we share the same best friend.

Then, everything suddenly changes when Max is involved in a horrific accident that sets him back three years. He remembers his friends, but here's the real kicker: He doesn't remember … me.

At first, I think it must be a cruel joke, but then I see how serious he is. Over time, I get to know the real Max Cooper. The one who can be sweet, funny, and kind. The one who shows me he's not such an arsehole after all.

Then, the inevitable happens. I fall for him.

Just as things between us begin to balance out, I lose my own equilibrium, and I don't know why.
But, despite all of this, no one is prepared for the real terror that's about to unfold.
Whoa! You romantic suspense lovers are going to love this one. Heck, I'm curious and giving evil side eyes to the TBR mountains around here that I promised myself I'd make a dent in during 2019.
If you're ready to chuck that resolution or never had it in the first place, here are your buy links. Amazon-only, sorry to say.
Amazon US
Amazon UK
Amazon CA
Amazon AU
And connect with Jaimie. Her website's under design as we speak, but you can find her here:
Goodreads
Twitter
« previous page
·
next page »