Tag Archives: dark fiction
May 7, 2018
Let's welcome another new writer friend of mine to West of Mars!
The best part of this anthology may not be the stories themselves, but the people and their fascinating lives and the personal tales they tell, beyond their fiction. That said, the fiction's pretty damn good, too, so don't miss out on it — and remember to leave your reviews. Reviews help more readers discover a book, and even if you list your favorite story titles and say nothing else, that's a helpful review.
Okay, off my soapbox and back to the story at hand. Today's focus is on Rebecca and her story, Visiting Friends. Which means we gotta ask that one famous question: Rebecca, what song makes you think of your book?
As soon as you asked this question the song that came to mind was, People Are Strange by The Doors. It's an eerie song that I think aligns itself well with my short story, "Visiting Friends" in the Running Wild Press Anthology of Short Stories Volume 2. The main takeaway from the song and I think "Visiting Friends" is that things are not always as they appear. The song also lends itself to the darker components that tend to creep into most of my fiction writing.
Ooh, I love me some dark fiction!
Want to know more about the story? Here you go:
In the short story "Visiting Friends," Bram Samper is thrust into Tarriton, a small Upper State New York town to attend his best friend's wedding. While he is trying to navigate his own torments, Bram meets a strange couple, the Bakers and is taken to the bride's family home, the Van Meertan mansion. A lavish party is being held where he meets his friends and soon-to-be married couple, Jeff and Maryke. As the night before the wedding continues, a brewing storm and strange occurances eventually draw Bram into a precarious situation. This eerie short story with a supernatural twist asks the one simple question, are things always what they appear to be?
Pick up your copy of the anthology today!
Amazon
B&N
Rakuten/Kobo
iTunes
And connect with Rebecca, too.
You can find out where to find Rebecca's other published short stories at www.smalltowngal.com. You can also find her all over social media at Twitter (@rhhouse), Instagram @rhousewriter) and Facebook (https://www.facebook.com/smalltowngalwriting/)
August 18, 2017
So I like bringing you guys opportunities to further your writing and/or your careers — because the world deserves the best writing we (yes, me included in that) can offer.
Except that by telling you about them, unless it's my own site, I can't really endorse them. I mean, most of what I bring to you is stuff I come across, not opportunities for promotion or calls for submissions that I have personal experience with. Which means you should always, always vet an opportunity carefully, even though I've already looked things over and decided that hey, they look pretty solid.
Today's entry fits that category: I looked 'em over but have no personal experience with them.
Crystal Lake Publishing will be opening their submissions on October 1 of this year. I know! That's a month and a half away, so why am I telling you about it now?
So you can write something, silly. Pull out something you'd set aside and polish it up. Whatever it is you have to do.
They ARE looking for haunting stories. Not necessarily ghosts, but something that'll stick with the reader. And yes, they want it dark-themed (but no, although the anthology will be called Tales from the Lake, they aren't looking for stories with lakes).
So that's the bare bones, no pun intended. I'll let you go over to Crystal Lake Publishing and read their call for submissions. You're big people and you're professional writers. You can do some of the leg work yourself.
Have fun. Let me know if you need a set of eyeballs on your piece before you submit it, and definitely let me know if you're accepted.
Now, go rule the world with your literary stylings. That's an order.
May 26, 2014
I know people. And they know people. And sometimes, the people I know connect the people they know so the people they know become the people I know and you know something? I love it when that happens.
David Sturman's one of those people. He used my friend and sometime subcontractor Faith to edit his novel, and she sent him my way for a turn in the spotlight. I'm proud to host him.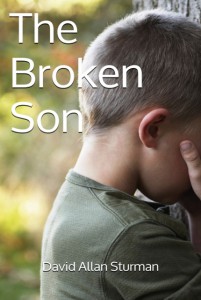 His new book is called The Broken Son, and I'll tell you all about it in a minute. First, let's hear what song makes him think of his new book. Because, of course, the music's what's most important.
my answer would be Pink Floyd's "Hey You" off their album The Wall.
Short and sweet, eh? I am curious as to the WHY, though. David didn't say… Maybe that's a good thing, as I'm studying the book description, trying to figure out what the connection could be.
Here that is:
"The Broken Son" is the first installment in a three part series of short novels. It depicts the life of a pre-teen boy who is emotionally and physically abused while growing up in Detroit, Michigan during the 1980's. The boy is so distraught with his surroundings he believes that his parents are determined to kill him. To make matters worse, the boy frequently hallucinates about an evil clown who appears to him during his troubles only to add fuel to his parents fire.
Wow. That's a heck of a subject to tackle. If you like your fiction dark, I think this one's for you.
Pick up your copy:
Here is the purchase link (note: Amazon only!)
Here is the Facebook link