Let's all welcome both Haley Whitehall AND the Featured New Book Spotlight back from hiatus! I've been busy editing over here at West of Mars, so hitting up people for submissions has fallen by the wayside. Thanks to whoever posted about the spotlight on Facebook; I've got a bunch of new books to share with you in the coming weeks (and hopefully months).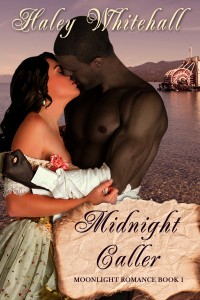 I'd like to thank Susan for having me on her blog again. I recently received the rights back to my first historical romance Midnight Caller, lengthened, re-edited, and re-released it. No matter how many romances I write in my career, I will always have a soft spot for Midnight Caller. I liked it before, but now I love it. I enjoyed improving a good story.

Midnight Caller is set in Kentucky right after the Civil War. Racial tension runs high, and a white woman loving an African-American man can be very dangerous. Emma never thought spending one night with Frederick would be all it took for him to claim a piece of her heart. She wanted a little freedom, wanted to experience passion after her loveless marriage. Frederick is the complete opposite of her late husband: muscular, caring, gentle, and midnight black. He works as a roustabout on the steamer the Comet by day and at night he moonlights by keeping widows company.

They both feel the pull to each other and try to ignore it…but the heart wants what the heart wants. I thought the song Can't Help Lovin' That Man from my favorite musical Showboat captured their forbidden love perfectly. The musical is set not long before my novella, and I'm sure the character Julie knows what my heroine Emma is going through. 🙂
I love hearing about authors who get their rights back and work to strengthen a book, even when it was good to begin with. You go, Haley!!
Ready for the book's description? Do you even need it after that run-up and song choice?
Life without love is painful, but in the Reconstruction Era South forbidden fruit can be deadly. A fiery romance between a widow and an African American man has more consequences than either of them imagined.

Slavery has ended, but racial prejudice remains in Kentucky. Emma Bennett guards a secret that could destroy her life. Until now she never considered the price of her security. Becoming a well-respected member in Louisville had seemed a dream come true, but at what cost?

Her husband's death from a carriage accident releases Emma from her loveless, controlling marriage. Now she has a chance to find happiness and raise a family. But before she begins courting again she wants to experience her freedom. At the advice of the leading socialite in town, she takes a black lover to fulfill her sexual needs. His raw masculine power awakens feelings she didn't know existed. After the first touch, she craves more.

Frederick works as a roustabout by day and moonlights as a prostitute. He knows better than to fall in love with his white client, but Emma enchants him the first time he calls on her. To keep them both safe, he works hard to put up barriers. Unfortunately, he can't protect Emma from the slimy Mr. Hawthorne, who wants her as his bride. Frederick vows to keep her safe even if his forbidden love costs him his life.
Buy Links:
Universal Amazon Link | Barnes and Noble | iTunes | Kobo | Smashwords | All Romance Ebooks
Social Media Links:
Website | Blog | Facebook | Fan Page | Twitter | Amazon Page | Pinterest
And remember: if you read it and like it, the author would LOVE a review! Even a few words at a site like Goodreads will help keep Haley in the business of writing books and creating new worlds for us all to explore.