Let's welcome author Carly Spade to West of Mars!
And does that book cover remind anyone — in a very very very good if a bit I-miss-you way — of Lucifer? That right there is reason enough to grab this book, no?
But we're here to talk about the music! So let's talk music! Carly Spade, what song makes you think of your book, Zeus?
Throne by Saint Mesa This song represents the royalty aspect of Zeus but also the carnal and powerful sides he exudes as well as the book's themes as well.
I have never heard of Saint Mesa before, but WOW. I ran over to TIDAL and added this and made a note to myself to explore more of this Saint Mesa man. This is good stuff. And it's great to have on as I work, too.
So okay… we've got carnal and powerful sides and this amazing song… if THAT hasn't sold you yet on this book, how about its description?
𝘼 𝙜𝙤𝙙-𝙠𝙞𝙣𝙜 𝙙𝙞𝙨𝙜𝙪𝙞𝙨𝙚𝙙 𝙖𝙨 𝙖 𝙘𝙧𝙞𝙢𝙞𝙣𝙖𝙡 𝙙𝙚𝙛𝙚𝙣𝙨𝙚 𝙡𝙖𝙬𝙮𝙚𝙧…⁠ ⁠

Zeus/Zane, King of the Greek gods, holds the world in his palm in both his mortal and godly form… until Hera leaves him, forcing him to uphold Gaea's clause: There must always be a Queen, or he loses his title and part of his power along with it. Time is short. Too bad the one woman he has his sights on wants nothing to do with him. Or does she?⁠ ⁠

𝘼𝙣 𝙚𝙢𝙥𝙖𝙩𝙝 𝙘𝙧𝙞𝙢𝙞𝙣𝙖𝙡 𝙥𝙧𝙤𝙨𝙚𝙘𝙪𝙩𝙤𝙧…⁠ ⁠

There's nothing Keira Bazin dislikes more than defense lawyers. So when she discovers Zane Vronti, one of New York's finest, has been brought in on her newest murder case, it's anything but good news. Tensions flare as the two immediately butt heads, but there's something about Zane she can't put her finger on. His emotions are the strongest she's ever felt–borderline overwhelming. Power. Lust. Command. Can she fight her growing attraction for him? Does she want to?⁠
WOW. This looks like fun.
Make note, though: this is the last (the sixth! Good on you, Carly!) in the series and CAN be read as a standalone, there are some Easter Eggs that'll jump out at you if you've read the first five. So… I'd say get this, read it, then go back and start at the beginning and read the series the whole way through to catch those Easter Eggs. Why not?
Pick up your copy:
Universal Amazon link
Pre-Order Incentive Bonus Sign Up (Free art print and bookmark)
Nice. Preorders are always good things. And you won't have to wait TOO long, as this releases on April 25. That's two weeks! Heck, if you're a fast reader, you can buy the first five and speed read and be ready for this one to drop. (I wish; how about you?)
And be sure to connect with Carly Spade, too.
Twitter
Instagram
Facebook
My Readers Group
TikTok
Goodreads
Amazon
BookBub
Of course, the best way to thank an author for a book you like is to either tell a friend or buy them a copy. The second best way is to leave a review, and I think leaving fair reviews is always the way to go. If you're not sure what a fair review is, drop me an email.
But the bestest best way of all? Send your author friends to the Featured New Book Spotlight submission page!
Been awhile, huh? I've been SUPER busy with edits and haven't been able to remind authors to stop in. So if you are reading this, remind your author friends to stop in! It's one question!
Today, we have McDonald, Isom, and McDonald back again, with McDonald representing the writing trio. Jason McDonald, that is, who's an upstanding dude, so I encourage all you guys to check out this trilogy. And sadly, Blood of Cayn is the last book in the trilogy! If you've missed the first two, go chase them down. (Here's the Amazon link to the first, and yes, sorry, but it's exclusive to the Big A.)
So. Book Three. Blood of Cayn. (Man, I hope these guys have more in the pipeline. I've got to remember to ask.)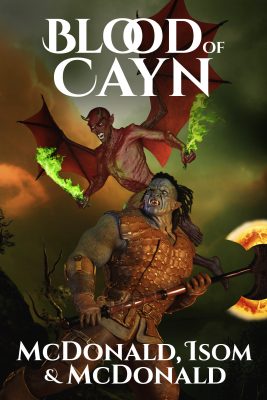 Jason, what song makes you guys think of your book?
Face Everything And Rise – Papa Roach

We chose the song Face Everything and Rise because it resonated with our book. Specifically, and Papa Roach did this with the title of their album, the definition of the acronym F.E.A.R is Face Everything and Rise. It can also be Forget Everything and Run (expletive optional). Grendel, Xandor, Chert, Jasper, Yana, and Sehraine did not do that. They faced their fears and rose above them.
Ready for the back cover? Here you go:
Chernigov – once a shining hub of prosperity joining two nations, now a dark, smoke-shrouded hive of dangerous humanoids ruled by the ruthless hand of Bregu Kraagor – harbors a deadly secret. Somewhere in its depths, the villainous knight, Marko Madasgorski, and the body snatching mage, Gregori, have hidden a cache of plague-ridden soap that could spell the doom of the human kingdoms of Parlatheas.

After battling their way across half the continent, Xandor, Chert, Jasper, and Grendel have followed their quarry into the orc city in a desperate attempt to save the city of Pazard'zhik and everything they hold dear. Meanwhile, across the White River, Yana and Sehraine have joined forces with the Iron Tower to rescue their friends.

With only the dubious guidance of the disgraced Baroness Alexandra "Sacha" Madasgorski, the adventurers must plunge into the depths to find the plague's cure and stop Marko and Gregori before it's too late. But the dark god, Sutekh, doesn't give up his pawns easily. While Sacha sets her own plans into motion, the sentient Veritas autem Sutekh whispers dark promises to Jasper, teasing him with hints of the answers they need and the promise of power – if he will swear his soul to Sutekh.

Will they find the cure? Can they escape the bowels of Chernigov to save their world? Find out in this thrilling conclusion to the Cayn Trilogy!
Seriously. If fantasy and D&D and all that is your thing, do NOT miss this series. It's fresh, it's innovative, and it's fun. And, of course, once you read it, remember to leave a review! Reviews help books be more easily discovered… or to warn off readers if there's a valid reason to do that.
Pick up your copy here: Like I said, it's Amazon only.
And connect with our creative authors!