I'm totally going to have to have a graphic made for these calls for submissions. Wouldn't you agree? Anyway, this is the cover for an anthology that I submitted to — and made the cut. Seems fitting to include it here.
WOW-Women on Writing hosts a twice-yearly contest and call for submissions for both flash fiction (word count between 250 and 750; open topic) and creative non-fiction.
There IS a $10 entry fee, but they are clear about where the money goes (yay for transparency!) — and they are only accepting the first 300 entries. That sounds like a lot until you stop and consider that entries are open to writers worldwide and we all know I'm not the only one spreading the word about this contest!
Yes, it's a contest. Did you miss the other times I mentioned that? Winner gets the entry fees — and more!
BUT there's a few extra twists happening here. One is that for double the entry fee, you can get a critique back on your piece (once the contest ends, obviously. Right? Wasn't that obvious?) — and having been a judge in a contest that asks for critiques, I've heard from the entrants that the critique is really nice to have in your hands. (THAT was some weird discussion, as I couldn't out myself as a judge!)
The rules for non-fiction are a bit different, so go check them out at the WOW-Women on Writing site.
And, of course, be sure to read ALL the rules. There's a downloadable file, so be sure to download, open, and READ IT. Don't shoot yourself in the foot by skipping that step (why am I giving myself the stink eye?)
Enter away! Once they hit the max number of entries, the buttons will be disabled, but as I'm typing this, they are live, so go have some fun!
As always, if you make the cut at any stage or wind up the winner, be sure to let us know so we can all cheer you on. And remember: you can totally do a Featured New Book Spotlight for published short pieces, as well!
Good luck, and here's that link again.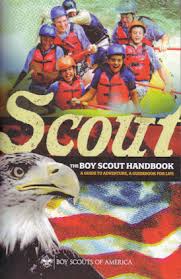 Color me shocked to read a blog post the other day that quoted a New York Times article written by an Eagle Scout. The guy was calling the Boy Scout Handbook a Work of Great Literature.
By its definition, literature is fiction. The BSA Handbook is, by its definition, not.
From Webster's online:
Literature:

written works (such as poems, plays, and novels) that are considered to be very good and to have lasting importance

: books, articles, etc., about a particular subject

: printed materials (such as booklets, leaflets, and brochures) that provide information about something
Before you get in my face that the second and third points aren't fiction, let me point something out: it's only the fiction entry that gets noted as consider to be very good and to have lasting importance. That's key here.
Other the Bible, which is in a class of its own, think of Works of Great Literature. What comes to mind? Moby Dick? The Scarlet Letter? Pride and Prejudice? Don Quixote? Beloved?
And authors you recognize: Flaubert, Garcia Marquez, Borges, Faulkner, Hemingway, Joyce, Shakespeare.
These ALL have two things in common: they are fiction. And they are old. I think Toni Morrison is the newest on the list I'm looking at.
Okay, a second look shows some Harlan Ellison and Chinua Achebe. On some radars, that's old. (On some radars, I'm old. On some, I'm not.)
But you get my point, right? FICTION. Not real. And certainly not a handbook designed to teach you outdoor skills and the twelve points of the Scout Law.
As a Boy Scout leader (Trained Scoutmaster, Venturing Advisor, Wood Badge, and member of the Order of the Arrow) and as a parent of a Boy Scout, yes, I've read the Boy Scout handbook. It's fascinating reading, and the centennial edition is beautifully put together. But it's not a novel. It's not a Work of Literature. (to be fair, it's the 1940 edition that is being raved about, which I don't think I've ever seen, although I've seen some old ones, including an original. But it's still not fiction!)
And you know what? The New York Times shoulda known that. The author of the piece should have known that. He's a Distinguished Eagle Scout and has won all sorts of awards.
Know something else? He defined what to him a Work of Great Literature is. So he had to share his definition with the world in order to make this argument. It's one man's argument. It's not a generally agreed-upon one.
It saddens me. There's simply no way I, who works in publishing, can agree with this classification. The Boy Scout Handbook is brilliant for what it is. A manual. A guide to survival, to skills that some think are dying out (they clearly don't watch The Walking Dead). It's a way of life, a set of values, a challenge to your knowledge.
But it's NOT literature.
It's a two-fer! Something we don't see her often is an author with two back-to-back weeks in the spotlight. That's probably because most of you don't have such close release dates. But my buddy Faith Cotter does, and I'm eager to tell you about this one. It's an essay, a work of non-fiction, and it's called Paper Dragons.
Before I tell you much more about it, let's pique all our interests — mine included — with the important stuff: What song makes Faith think of her essay?
"Blue," by Mai Yamane for the Cowboy Bebop OST

You're gonna carry that weight. The Beatles lyric appears in the bottom of the television screen. Blue has just hit its final note, and the story has ended. John turns to me and says, "Did you like it?"

There are tears in his eyes. It is one of the only times I have seen him cry. Yes, I tell him. I loved it.

Blue marked the end of a show that built its story around exploring how we carry the past and make sense of a chaotic world. In a scene that eloquently speaks to why people create narrative, cartographers race against time and nature to map out rapidly changing land, all in a futile effort to creature structure and logic.

You're gonna carry that weight. It's why I wrote Paper Dragons. It's why John and I share stories, and why he will write someday, too: to make sense of it all. To carry the past as best we can.
Wow. Powerful stuff, huh? So… need to know more? I do.
What would you do with time that you didn't think you'd have? In the wake of an illness that rocked the lives of their family for nearly a decade, Faith and her brother John don't speak to each other that much anymore. He no longer needs her to help take care of him, and he's too old for their favorite book, The Velveteen Rabbit. With John staring down the sudden possibility of time, Faith tries to pick up pieces of the past in an attempt to make life whole for both of them again–but she can't find these relics, pictures of dragons drawn by John's hands in the early days of his childhood. Paper Dragons examines the kind of grief that is created by lost years, and the stories that break relationships apart–and puts them back together.
Sounds like powerful stuff, huh? (And can I repeat myself any more??? Sheesh. But really. What other word would you use?)
Pick up your copy. Since it's not available at the wider retailers yet, remember that Smashwords can give you any format you need, and the author (in this case, Faith) gets the highest royalties around. Win-win for everyone, so it's always worth opening an account and keeping your eyes peeled for the periodic promotions.