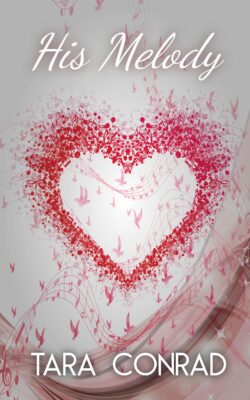 We're back after a short blackout (I hate those!) with a return visit from my new friend Tara Conrad.
You can visit her first post, featuring Submitting to Him, here.
Which means Tara's an old hand at this already. I mean, of course she is after only being here once before. This isn't hard stuff, gang — and that's by design. I want it easy for you, both as spotlit authors and as readers. Which means, we gotta get right to it, no?
Tara Conrad! What song makes you think of your new book, His Melody?????? (Lots of question marks 'cause I really want to know and yes, today is a MOOD. Go with it.)
Viktor and the girl he ends up with (I can't give away who it is) both believe they're damaged beyond repair. Both of their pasts are filled with loss, pain, and more trauma than any person should have to endure. Neither of them believe they're worthy of love.

Their paths cross–their worlds collide and they can't ignore the pull to one another.

But, there's one big problem, their love is forbidden.
This song? One of my all-time favorites! And I want to one day write a book that makes me think of this song. It's so… mmmm. Everything. Yum.
And if you didn't notice, by Tara's refusal to let us know the female lead's name, this is one in a series — the fourth, to be precise. So you might want to backtrack and catch up before reading this one! (Hey, the first book? I linked to it above! It's Submitting to Him!)
But before we think about that, let's talk about the official book description. Ready? I sure am!
Everyone seems to believe time heals all wounds. But is that really the truth or something people say to ease their conscience?
The pain from loss never completely goes away. Instead, we learn to live with the suffocating grief.
I shouldn't have gotten my hopes up. A man like me doesn't get a happily ever after.
I knew better. That mistake won't happen again.
This time, I'm starting over with nothing left to lose.
I just hope when the dust settles, everyone I care about can forgive me.
~Viktor
Ooh! Tara STILL didn't spoil the woman's name!!! Notice what she did there!
I gotta know. Do you gotta know?
Here's the way: Amazon only book you gotta read
And here's how to connect with Tara… well, how to get signed paperback copies, anyway! They make great gifts…. just sayin'…
This is that spot where I remind you that if you can't gift a copy to a friend, and if your friends are tired of you talking up all the great books you find here and want them to know about, the next best way to help an author raise their visibility is to leave a review online! Another good way is to send them here, for their chance to stop into the spotlight.
Be a good reader. Share the name of your favorite book or author with the world.
I swear, I'd seen Keri Ford's name around the blogosphere with the release of an earlier book, so when she dropped into my inbox, looking for an editor, well, I was excited. I mean, hello? She's got a backlist that's over 10 books long already. And I recognized her name! That's always a bonus — when I recognize an author's name, and s/he is coming to me for an edit.
Yeah, it doesn't take me much…
So I'm more than pleased to share Keri's new release, published under her pen name of Charley Colins: In Her Sights. I've read this. I'm one of the people who helped shape it.
Just remember… any mistakes are due to the gremlins!
Now, on to Keri…
Thanks for letting me visit you Susan! And what a fun question because I have an answer this time! I usually don't have just one song for a book, but when I was working on In Her Sights, the one song I kept going back to was Pink's Trouble.

Lexie, my heroine, is a kick-butt kind of girl at night. She knows it and she's good at it. But it's a secret. During the day she has to be sweet and loving and always smiling and ready to be polite for people.

When she hits the streets at night, dressed in black with her ski mask and all her weapons, I picture her moving to this song. If this book was a movie, this is the song that would play at the end while she's running across rooftops and fighting men on the street with of course, a huge smile on her face.

It's the music, the tone of Pink's voice, and the words. All of the attitude just pours from the song and lyrics. It speaks about who Lexie really is on the inside. The part of her she has to keep hidden from everyone.

And is that Jeremy Renner I see?
Blurb:
Some call her a killer.

Others call her a hero.

Lexie Olympia calls herself neither. She's getting the job done because she can. A beloved philanthropist by day who's nicknamed Melville's Sweetheart, Lexie has the city wrapped around her little finger. Having been a victim in the past, left behind with the killer still on the loose, Lexie knows what it's like to live with that fear. Instead of biting her nails over it, she takes action. Drug lords, gang leaders, con artists, kidnappers, serial killers, anyone who leaves behind innocent victims are marked on Lexie's list.

When a neighbor leaves a stolen ancient dagger on her doorstep and skips town, Lexie's left picking up the pieces. The police, a local private investigator, and a gang are all after this artifact and Lexie uses her nighttime persona, Artemis, to get to the bottom of things. Everything is going smoothly until she gets caught.
Chapter One can be read here
Amazon
B&N
AllRomanceEbooks
Smashwords (affiliate link; help me AND Keri earn a few pennies, why don'tcha?)