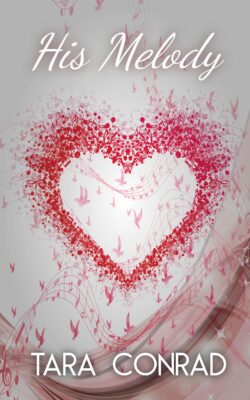 We're back after a short blackout (I hate those!) with a return visit from my new friend Tara Conrad.
You can visit her first post, featuring Submitting to Him, here.
Which means Tara's an old hand at this already. I mean, of course she is after only being here once before. This isn't hard stuff, gang — and that's by design. I want it easy for you, both as spotlit authors and as readers. Which means, we gotta get right to it, no?
Tara Conrad! What song makes you think of your new book, His Melody?????? (Lots of question marks 'cause I really want to know and yes, today is a MOOD. Go with it.)
Viktor and the girl he ends up with (I can't give away who it is) both believe they're damaged beyond repair. Both of their pasts are filled with loss, pain, and more trauma than any person should have to endure. Neither of them believe they're worthy of love.

Their paths cross–their worlds collide and they can't ignore the pull to one another.

But, there's one big problem, their love is forbidden.
This song? One of my all-time favorites! And I want to one day write a book that makes me think of this song. It's so… mmmm. Everything. Yum.
And if you didn't notice, by Tara's refusal to let us know the female lead's name, this is one in a series — the fourth, to be precise. So you might want to backtrack and catch up before reading this one! (Hey, the first book? I linked to it above! It's Submitting to Him!)
But before we think about that, let's talk about the official book description. Ready? I sure am!
Everyone seems to believe time heals all wounds. But is that really the truth or something people say to ease their conscience?
The pain from loss never completely goes away. Instead, we learn to live with the suffocating grief.
I shouldn't have gotten my hopes up. A man like me doesn't get a happily ever after.
I knew better. That mistake won't happen again.
This time, I'm starting over with nothing left to lose.
I just hope when the dust settles, everyone I care about can forgive me.
~Viktor
Ooh! Tara STILL didn't spoil the woman's name!!! Notice what she did there!
I gotta know. Do you gotta know?
Here's the way: Amazon only book you gotta read
And here's how to connect with Tara… well, how to get signed paperback copies, anyway! They make great gifts…. just sayin'…
This is that spot where I remind you that if you can't gift a copy to a friend, and if your friends are tired of you talking up all the great books you find here and want them to know about, the next best way to help an author raise their visibility is to leave a review online! Another good way is to send them here, for their chance to stop into the spotlight.
Be a good reader. Share the name of your favorite book or author with the world.
Woo hoo! Tara Conrad and I have gotten to know each other over the past year or so, thanks to Pennwriters. If you're looking for a top-notch writing group, that's it. Right there.

But we're not here to talk writer's groups; that's just your bonus tip of the day. No! We are here to talk about Tara and her new book, which is actually a re-release, cleaned up and made prettier and all sorts of better — for her and for us. And if you're into BDSM fiction, this one's for you. Need proof? Let's get to it! Tara Conrad, what song makes you think of your book?
Caleb and Kelsey's Medley: From this Moment/You're Still the One
Alex and Natalie didn't go to the club that night hoping to meet someone. They were both suffering from past hurts and wanted nothing to do with love. However, when they saw each other, they couldn't ignore what they were feeling. The first lines of the song really speak to the heart of where Alex was at and what happened when he saw Natalie, "From this moment life has began…right beside you is where I belong." Meeting Natalie brought Alex back to life. He found his soulmate, and he wasn't going to let her get away.

In the middle of the song, the lyrics read, "They said I bet they'll never make it. But just look at us holding on. We're still together still going strong." This speaks to Natalie's side, especially with her family discouraging her relationship with Alex. But despite all that, they were together and strengthening their bond.

Later in the song is the lyric, "And you're the reason I believe in love. And you're the answer to my prayers from up above. All we need is just the two of us. My dreams came true because of you." For me, this is where Alex and Natalie have become a solid couple. Everything around them fades away. They've helped heal one another's hearts. Love is no longer something they avoid, but is something they embrace.

The song ends, "So glad we made it. Look how far we've come my baby. I will love you as long as I live. From this moment on." I don't want to ruin the ending of the book, but these lines reflect on Alex and Natalie's journey and the love the share. They're going to need to rely on the strength of their love for the challenges that lie ahead.

Overall, I think the songs represent the beauty of two people finding each other and overcoming all the odds–finding that once in a lifetime love.
Ooh, wow! What a detailed, rich answer!
Ready for the official description? Here you go!
An act of betrayal, a call to 911, and a note from the brother she lost give Natalie the courage to embark on a journey of self-exploration.
Unknowingly set up by their friends, Alex and Natalie spend the evening together at New York City's Fire and Ice Club.
Neither one is looking for love, but their chemistry is too strong to ignore.
They agree to a relationship with an expiration date—the insurance policy both believe will keep their hearts safe.
Distance makes the heart grow fonder, or so they say.
Forces outside their control seek to pull them apart, but they find their way back to one another.
The couple's connection is stronger than ever until tragedy strikes Natalie's family.
Mistakes are made. Words that can't be taken back are uttered.
Sometimes it takes the love of friends to pick up the pieces.
Can two broken souls find their way back to one another?
Do you need a copy? Of course you do!
Readers can find Submitting to Him here
They can also find the pre-order links and physical book copy links for the other two books in the trilogy here:
Fighting with Him
Living for Him
They both release on June 21 — so preorder away and have a nice surprise waiting for you on the 21st (Hey, that's my parents' anniversary, too, so when your book magically shows up, be sure to send my parents anniversary wishes!)
Hey! Do you need a signed copy? Of course you do! Signed copies are available on Tara's website
And get to know Tara, too. She's lovely, and always glad to be active in the greater community to fundraise and be involved to help make the world a better place. You all know I love people who do that!
Facebook
Goodreads
IG
Twitter
Tiktok
Bookbub
Newsletter Subscribe