Tag Archives: western romance
December 7, 2020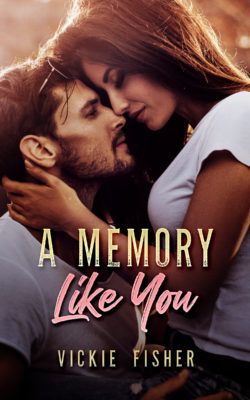 Do you LOVE this cover, or WHAT???
It's what caused me to strike up a conversation with author Vickie Fisher, and then invite her to stop in today to tell us about the book itself. As if that cover doesn't speak for itself. Ooh, baby. I am in love. With the cover. Don't judge me.
So… Tell us, Vickie Fisher! What song makes you think of your new book?
What's A Memory Like You (Doing In A Love Like This) byJohn Schneider. I have always loved this song and thought how amazing it would be to have someone love you so much that your memory is always just a moment away. Then of course the realization that the reason they are pining for me is that I didn't love them the same way. And the happy feeling the song first gave me turned to sadness. I mean how could someone love someone so completely without that person loving them back. In my romantic mind, I had to fix it. After all, the foolish girl who threw that love away had to have a reason, right. Maybe she did love him like that, but something happened and she had to walk away from him. And so A Memory Like You was born.
Ooh, WOW. What a reason! I love books inspired by songs… obviously, right? Because what's the one question I ask y'all around here? But to improve on the song and make it happy?
I'm there. Totally.
Check out the official back cover copy:
Anyone who knew them never doubted the love Cassidy and Shane shared was a gift from God.

When a misunderstanding blows their relationship apart, no one expects them to still be apart five years later. Champion bull rider Shane Cartwright has made too many mistakes in his life—the worst was letting Cassidy McDaniel go. Can she ever forgive him? With the rodeo season half over, he needs to convince her to once again pursue her dream of becoming the first female World Champion Bull Rider.

Can their time together mend broken fences, or will it take a miracle to bring their hearts back together?
And it's a Western! The cover, the setting… this is my catnip, folks. Is it yours? Or maybe a friend's? Pick up a copy:
Amazon
Barnes and Noble
And connect with Vickie Fisher, too! We haven't spoken much, but so far, I like her. She's a fellow Pennwriter, after all. (And yes, I highly recommend the Pennwriters, no matter where you live. I have been a member for the past 20 or so years, and then for a short time before that, so yeah. 10/10. Highly recommend.)
Website
Facebook
GoodReads
Twitter
Remember, the best way to thank an author for their hard work is to buy a copy of their book–and then to gift a copy, as well! But if you can't do that and still want to pay it forward, think about leaving a review online. If you're struggling with your review, let me know and I'll help.
And if you're an author who'd like to step into the spotlight, or have a friend who you'd like to see featured here, the Spotlight is open to all, even if we've never met before. Fill out the handy-dandy form and I'll get to each entry in turn, usually on Sundays, after my bike ride. Because yes, I'm back on bikes and yes, that's when I'm not busy editing!

March 25, 2020
Woot! I haven't met Karen Hulene Bartell yet but her middle name is one letter off mine, and that does it. Friends for life.
Yes, I really am this simple. It's part of my charm.
We're here to talk about Karen's new book, though, and from the look of this cover? Western.
I love Westerns. Yes indeedy.
Let's get to it, and hopefully I can stop drooling long enough to get this post together. Karen, what song makes you think of your book?
Westward Ho the Wagons (1956) The title tune and movie are all about moving to the Frontier, facing the unknown, conquering your fears, and being rewarded for your efforts. It was another time – another place – yet it was America in the 1880s.
I love this choice! What fun!
Here's the book description. Ready? I sure am.
Cadence McShane, free-spirited nonconformist, yearns to escape the rigid code, clothes, and sidesaddles of 1880s military society in Fort Davis, Texas. She finds the daring new lieutenant exhilarating, but as the daughter of the commanding officer, she is expected to keep with family tradition and marry West Point graduate James West.

Orphaned, Comanche-raised, and always the outsider looking in, Ben Williams yearns to belong. Cadence embodies everything he craves, but as a battlefield-commissioned officer with the Buffalo Soldiers instead of a West Point graduate, he is neither accepted into military society nor considered marriageable.

Can two people of different worlds, drawn together by conflicting needs, flout society and forge a life together on the frontier?
SO much here to love… Get your copy!
Amazon eBook
Amazon Paperback
Barnes & Noble NOOK Book
Barnes & Noble Paperback
As always, if you have an independent bookstore you love to support, see if they can order this for you. And, of course, remember to leave a review!
Connect with Karen Hulene Bartell! It's always fun, and now comes with automatic social distancing.
Facebook
Twitter
Instagram
Goodreads
Website
Email
Amazon Author Page
Instagram
Remember: if you're an author, I'd love to have you stop in and talk about your own book!
March 22, 2020
Let's welcome CB Clark today! She's here with her sixth book, Healing Hearts and I like the title. We could use a bit of healing right now, huh?
CB, what song makes you think of your book?
God's Country by Blake Shelton
That was all she had to say, but I suspect the song says it all. I'm listening to it as I write this post, but I've got a mechanical keyboard and it's LOUD. The keyboard. The song is fierce and atmospheric, and I get it.
So what's the book about?
Reeling from loss and heartbreak, Stella King is desperate to escape painful memories. The position of nanny on an isolated ranch in British Columbia's rugged Chilcotin Plateau seems the answer to her prayers.

Cattle rancher, Dawson Wheeler, has worked hard to overcome grief and build a predictable world for his young daughter. The last thing he needs is the all-too-attractive Stella disrupting the smooth running of his ranch, especially now that disturbing incidents are happening on his property.

Defending his land against those who want to gut it will be a challenge, but the biggest threat of all may be to his heart.
Yeah, the song fits.
Grab your copy:
Barnes and Noble
Amazon
iTunes
Kobo
Google Books
Or, if you're there, Walmart.com — but I couldn't search for it, so if you find a link, let me know and I'll update!
Remember, once you've read it, it's always kind if you leave a review! Need help? Contact me. It's a minimal cost for my time, but I'll help you strengthen a review and give you tactics to help write good reviews, even good negative ones!
Connect with CB Clark:
Instagram
Blog
Twitter
Facebook
Goodreads
Amazon Author Page
And now, your usual disclaimers: Authors, here's the link so you can submit your own book to be featured; remember, it only has to be new to my readers to qualify!
And again, remember to leave a review!