It was looking like the spotlight would be a bit dark this week when Karen Docter popped into my inbox with a new book! The lady couldn't have had better timing if she'd tried.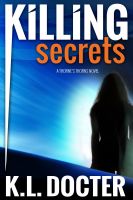 What song makes me think of my book, Killing Secrets (A Thorne's Thorn Novel)?

| | |
| --- | --- |
| | |
| | Preview by Yahoo |

Martina's song is about a controlling man who uses his wife without giving anything back to feed her or her dreams. The song reminds me of Rachel James, the heroine of my new romantic suspense thriller, Killing Secrets. Rachels ex-husband was more controlling than the man in Martina's song, and he kept her from leaving him by threatening the little girl she'd die to protect. She escapes him for a few months when she helps put him in jail. In Killing Secrets, he finds her and will do anything to get Rachel and little Amanda back. But Rachel's learned to fly and she's not going to be caged again. Meeting her real hero, Patrick Thorne, she finds a way to make her dreams come true. Even he recognizes that Rachel is a broken wing when he meets her, but he falls in love with her as they get to know one another. In many ways, he's as broken as she is. Together, they heal past wrongs and expose the secrets that dominate their lives.
I understand that desire, to never be caged again.
Ready for the book description?
Rachel James' ex-husband is released from prison determined to reclaim her and her little girl — the child is his key to controlling the James fortune. Frightened, Rachel flees to Denver with the child who hasn't uttered a word since her daddy went to prison.

Contractor Patrick Thorne wants nothing to do with another of his parents' charity cases. He failed his own wife so abysmally she took her own life as well as his unborn son's. After two years, it's time to concentrate on the bid he's won and the saboteur trying to destroy his construction firm.

There is no room for trust in either of their hearts. But trust is all that will untangle the secrets that dominate their lives, free a little girl of her silent prison, and save them all from a serial killer who stands too close.

(A Thorne's Thorns Novel)
Oh, nice! I think I need to read this one. Karen, you've made a fan!
Pick up your copy today.
Amazon
Paperback
B&N
Kobo
iTunes
Smashwords
And connect with Karen, too. You'll be glad you did!
Website
Amazon Author Page/K.L. Docter
Facebook/K.L. Docter
Book Bench for Romance Lovers FB Group
Google+
Linked In
Goodreads
Shelfari
Pinterest