Tag Archives: thriller
May 31, 2021
Let's welcome the writing team of McDonald and McDonald back to West of Mars!
You may remember them from their Son of Cayn trilogy, which we featured here, here, and here. That was a couple of years ago, and between then and now, they've clearly been busy, with this first in a new series called Chronicles of Damage, Inc. (Oooh, don't let Metallica's lawyers see that! Although… good song.)
Still, Jason and Stormy have an other song or… well, three… that remind them of Phantoms of Ruthaer. And what songs would those be? Let's let them tell us.
The characters who comprise the bounty hunting team of Damage, Inc. in Phantoms of Ruthaer have been waiting impatiently for us to tell their tale for a while now. During the early stages of their development, we began assembling a playlist of songs that spoke to us about each character, such as Drivin N Cryin's "Straight to Hell" for the irascible archer, Dave, and "Adrenaline" by Gavin Rossdale for the team's leader, Hector. Then we heard "The Outsiders" by Eric Church. Its gritty depiction of a group with a reputation for being dangerous, who aren't afraid to go their own way, and are willing to stand up to anyone captured the essence of Damage, Inc and our novel.
Three songs, so have some aural fun as you read!
But… you're not going to want to read until you know what the book's about, right? Well, here ya go:
In the countries east of the White River, some call Damage, Inc. heroes. Others call the bounty hunters criminals. The truth lies somewhere in between. Hector de los Santos, the team's leader, has only two rules about bounties: finish every job, no matter what it takes, and no charity cases.

Aislinn Yves, the team's half-elven tracker, thought she'd never see the tiny village of Ruthaer again. That is, until a plea for help from her father's old friend, Tallinn, arrives. The job sounds simple: track down a few missing people, perhaps a killer. The trick is convincing Hector to put their current job on hold.

Unfortunately, things are worse than Tallinn implied. Unnatural weather, restless dead, and gruesome murders are just the beginning, for the town harbors a terrible secret more dangerous than Aislinn or Hector could imagine. A secret that could spell the end of Damage, Inc. and drag Ruthaer straight to Hell.
Sounds like a winner? Grab your copy, exclusive to Amazon. And remember to leave a review once you've finished reading. There's no better way to thank an author for their hard work, creativity, time, and inspiration.
And connect with our friendly authors!
Facebook
Goodreads
As always, remember to share the word of the spotlight with your author friends. Come one, come all! Here's the link to the handy-dandy form.
June 2, 2014
It was looking like the spotlight would be a bit dark this week when Karen Docter popped into my inbox with a new book! The lady couldn't have had better timing if she'd tried.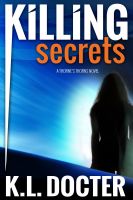 What song makes me think of my book, Killing Secrets (A Thorne's Thorn Novel)?

| | |
| --- | --- |
| | |
| | Preview by Yahoo |

Martina's song is about a controlling man who uses his wife without giving anything back to feed her or her dreams. The song reminds me of Rachel James, the heroine of my new romantic suspense thriller, Killing Secrets. Rachels ex-husband was more controlling than the man in Martina's song, and he kept her from leaving him by threatening the little girl she'd die to protect. She escapes him for a few months when she helps put him in jail. In Killing Secrets, he finds her and will do anything to get Rachel and little Amanda back. But Rachel's learned to fly and she's not going to be caged again. Meeting her real hero, Patrick Thorne, she finds a way to make her dreams come true. Even he recognizes that Rachel is a broken wing when he meets her, but he falls in love with her as they get to know one another. In many ways, he's as broken as she is. Together, they heal past wrongs and expose the secrets that dominate their lives.
I understand that desire, to never be caged again.
Ready for the book description?
Rachel James' ex-husband is released from prison determined to reclaim her and her little girl — the child is his key to controlling the James fortune. Frightened, Rachel flees to Denver with the child who hasn't uttered a word since her daddy went to prison.

Contractor Patrick Thorne wants nothing to do with another of his parents' charity cases. He failed his own wife so abysmally she took her own life as well as his unborn son's. After two years, it's time to concentrate on the bid he's won and the saboteur trying to destroy his construction firm.

There is no room for trust in either of their hearts. But trust is all that will untangle the secrets that dominate their lives, free a little girl of her silent prison, and save them all from a serial killer who stands too close.

(A Thorne's Thorns Novel)
Oh, nice! I think I need to read this one. Karen, you've made a fan!
Pick up your copy today.
Amazon
Paperback
B&N
Kobo
iTunes
Smashwords
And connect with Karen, too. You'll be glad you did!
Website
Amazon Author Page/K.L. Docter
Facebook/K.L. Docter
Book Bench for Romance Lovers FB Group
Google+
Linked In
Goodreads
Shelfari
Pinterest
May 19, 2014
Author Jenny Hilborne has been a favorite around these parts for awhile now. If you like things a little dark, a little creepy, a little bit hold-your-breathy, Jenny's the author for you. And yet, at the same time, her fiction makes you think. It's smart. Â I really like it, and I hope you will, too.
Jenny's got a new book out now, called The Blackest Night. And while I might be a bit biased toward it and its success, I am confident you'll agree it's a great read.
Jenny, what song makes you think of your book?
The song that makes me think of my book is George Thorogood's "Bad To The Bone." Someone in The Blackest Night is exactly that, and it's Detective Jackson's job to find out who.
Short and sweet … and when you read it (note: WHEN you read it), you'll see why this one needed no extra explanation.
Here's what the book is about:
Thirteen years ago, a wrongful conviction sent an innocent man to prison. Still mentally and physically scarred six years after his release, William Law believed the darkest days of his life were behind him, until the night he is attacked in a dark alleyway. As Law tries to deal with the outcome and struggles to understand the reasons behind the encounter, a more troubling presence begins to make itself known. 

Meanwhile, a missing teenager's disappearance is being treated as a murder investigation. Homicide inspector Mac Jackson is leading the inquiries. With no contact, no ransom demand, and all the leads exhausted, his case soon grows cold. Then Jackson receives an anonymous phone call from a tipster with some startling information. As Jackson follows up on the new lead, he unearths clues connecting one crime to another, and learns that the most unconventional path might be the only one that leads to the truth.
Nice, huh? Â William Law is one cool character. Jenny's done a great job creating him.
Pick up your copy:
Not good enough? Need another way? Try a Goodreads give! *Open until June 5
Be sure to connect with Jenny, too:
March 6, 2014
Yes, your love's in jeopardy, baby!
I've either induced a huge groan, given you an earworm, or caused some confused looks. I'm not sure which it is.
Rocker Greg Kihn turned author some years ago, and he's got a new-ish release that's called a Rock Thriller by his publisher. (In other places on their website, they call it a "rock murder mystery." Well, which is it? Thriller or murder mystery? A publisher who doesn't know the difference isn't much of a publisher!)
We know better, though, right? It's a Rock Fiction thriller or Rock Fiction Murder Mystery. Sheesh.
This one is called Rubber Soul, which is a nod to the late, great Beatles, of course. There are other nods to the Fab Four as well — a shop on Penny Lane, and a few other surprises.
The one thing this description fails to do, though, is tell me much about the mystery. It's too in love with the Beatles thing. Which makes me wonder if this is really a mystery or if it's a tribute novel thinly disguised?
Jett's too young to know much about the Beatles. Heck, I'm barely old enough to know a lot about the Beatles. So we'll see what happens when this one hits our hands.
If you've read it, send us a link to your review!
December 30, 2013
Chrys Fey dropped into my inbox out of the blue. No idea whose friend she is, who sent her to me, or … well, anything! Except she's got amazing, positive energy and I like her already.
She's bringing us her debut today, a slick-looking book called Hurricane Crimes.
Before we get to the blurb, Chrys, what song makes you think of your book?
Hurricane by 30 Seconds to Mars

Hurricane Crimes, my short romantic-suspense story, is about a woman who finds herself trapped with a man during a category 5 hurricane. Not only does the title of this song fit the theme of my debut eBook perfectly, it is also by my favorite band.

The lyrics in "Hurricane" remind me of Beth Kennedy and Donovan Goldwyn. Beth wants to escape Donovan, but the hurricane forces her to stay inside with a man she can't trust. There is even a scene where she asks him if he is going to kill her, and a line in the song closely resembles that question. As hours go by, a fire starts to burn between them, a passion that neither of them can deny, but could kill at least one of them.

I included a video that has the lyrics for anyone interested in knowing the words.
NICE!!! I love meeting new authors who love the same music I do. Chrys, I hope you'll hang out here at West of Mars more often. This is where the cool kids play.
So… how about a book description?
After her car breaks down, Beth Kennedy is forced to stay in Florida, the target of Hurricane Sabrina. She stocks up supplies, boards up windows, and hunkers down to wait out the storm, but her plan unravels when she witnesses a car accident. Risking her life, she braves the winds to save the driver. Just when she believes they are safe, she finds out the man she saved could possibly be more dangerous than the severe weather.

Donovan Goldwyn only wanted to hide from the police, but the hurricane shoved his car into a tree. Now he's trapped with a beautiful woman while the evidence that can prove his innocence to a brutal crime is out there for anyone to find.

As Hurricane Sabrina wreaks havoc, Beth has no other choice but to trust Donovan to stay alive. But will she survive, or will she become another hurricane crime?
You Kindle users are in luck; the rest of us aren't. The novella (51 pages!) is only available at Amazon right now.
Need some links? Of course you do!
Facebook
Blog
Goodreads
Google +
February 25, 2013
I've known Phyllis Zimbler Miller online for awhile now. So it's my honor to host her for not one, but two Featured New Book spotlights. Two separate spotlights, in case any of you are groaning about how long this post will be.
Her new book is called CIA Fall Guy, and here's what she had to say about the song that makes her think of her book:
The song "The Riddle" from the musical "The Scarlet Pimpernel" (which I saw performed on Broadway many years ago) makes me think of my romantic suspense spy thriller CIA FALL GUY because of these lines in the song:

"Just see how virtue repays you
"Your turn and someone betrays you
"Betray him first
"And the game's reversed!
"For we all are caught in the middle
"Of one long treacherous riddle
"Can I trust you? Should you trust me too?
"We shamble on through this hell
"Taking on more secrets to sell
"Till there comes a day when we sell our souls away!"

While I won't say who in the book these lines best represent (that would be giving away too much), I will say that this is a good description of the intrigues in CIA FALL GUY.
How COOl to have some Broadway on my blog! I love it. (As an aside, the original vision for the Trevolution books was to have ShapeShifter bringing a musical to Broadway. That should tell you something about me!)
Here's the blurb:
When Beth Parsons is summoned to CIA headquarters for the bogus purpose of identifying someone from her past, she realizes she must find out what is really going on. Forced to partner with the man who may have been responsible for her husband's death, she has to unmask the real traitors or end up as the fall guy.

After the CIA driver who brought her to D.C. is shot and killed, Beth escapes her CIA "babysitter" and sets off to discover why she is suddenly once again in the world of spies and double agents.

Her quest takes her to Europe and then back to the U.S., and pairs her with a mysterious man who may or may not be on her side.

If you like espionage stories and tales of intrigue — especially ones with a dash of romantic suspense, CIA FALL GUY is for you!
Links!
Amazon